WinPC-NC
The program WinPC-NC is a software which turns any standard personal computer into a universal NC control system for up to 3 or 4 axes. Various versions with a scale of distinct functions and prices are providing an individual solution for beginners and model-makers and they are also be applicable for professional and industrial tasks.
Easy start-up procedure

WinPC-NC is delivered with pre-adjustments and can easily be started. A userfriendly and easily comprehensible step-by-step instruction guide is provided in the enclosed manual or in the corresponding PDF-manual on the CD. In addition to the standard motor signals you can use other specific signals as supplementary inputs or outputs. Definition and assignment of signals can easily be effected by using the integrated signal assistant. The determination of the optimal axes parameters is simply made by using the tuning function. Due to a lot of test functions and a detailed description it is no problem to reset/upgrade existing machines or other control programs.
Multilingual operation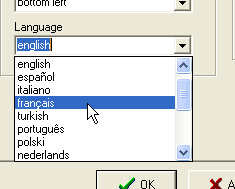 Via a simple dialog box or parameter settings the user can actually select up to 17 various languages. Additional languages can easily be upgraded by the user itself or – in the near future – the required language can be obtained and integrated directly from our company. Actually the following languages are available: german, english, french, spanish, italian, portuguese, turkish, polish, dutch, czech, slovenian, hungarian, croatian, bosnian, greek, serbian and much more besides.... Upon request we can also provide chinese.
Import filters for several NC formats
WinPC-NC is equipped with import filters which are conform to the popular HPGL plotter language (PLT) and common drilling formats. Thus it is excellently suitable for engraving, drilling of boards and milling 2D or 2,5D modelling parts. By using additional import filters it is possible to carry out more complex 3D jobs with 3 or 4 axes. Besides the world-wide generally used DIN/ISO or G-code language WinPC-NC is also able to process MultiCAM-data in 2D and 3D, ISEL-NCP programs and vector information of EPS and AI data. Using the current
version, it is also possible to import DXF programs in 2D. New programs can be devoloped by using the integrated editor or by using a specific graphics program (e. g. CorelDraw).
Real multitasking

WinPC-NC can be considered as a real multitasking program which never blocks the operation of Windows or any other programs. After activating a traversing task at the machine it is no problem to change over to other applications, e.g. to a CAD program in order to construct the next component. However, the quality of realtime controlling of drive systems and machines may be impaired by system enviroment influences, computer hardware and other installed programs which are running in the background. Furthermore, it is recommended that the used computer is equipped with at least 1 Ghz system clock and the operating system of WindowsXP and Windows 8. Please observe the corresponding compatibility table for the individual program versions, because each version requires it's appropriate operating system. The table mentioned is available here in pdf format.
Easy operating of the machine
Due to various functions WinPC-NC provides a safe and reliable control of the connected machine. The jog move is made exactly according to step integretiy via keyboard, mouse buttons or joystick. The popular and well-known types of the SpaceMouse of the company 3DConnexion are also usuable and they guarantuee an unbeatable comfort in operation. Parameters can be optimized by specific test functions, the same applies to the verification of the defined axes inputs.
Intelligent contouring control system

WinPC-NC can be defined as a real contouring control system equipped with efficient Look-ahead functions, which are able to ascertain and adjust the ideal speed in all situations. The machine moves in a constant mode during a traversing task, it does not require any break and thus traversing is accordingly adapted to the following contour characteristics. Even if there are variously setted axis resolutions for all axes the contouring control system guarantees a reliable and constant operation. The same reliable operation is guaranteed with motors of various moving characteristics.



Various versions of WinPC-NC
All versions of WinPC-NC are operating with one servicing philosophy and even with the same WINPCNC.EXE program. Variances in functions and in the mode of machine controlling can be found in the level below of the DLL modules.
WinPC-NC Light is an inexpensive program for beginners and provides all necessary functions for engraving, milling, drilling of boards and manufacturing modelling parts. Controlling the machine is made by a computer integrated LPT printer port.


Much more functions are available with WinPC-NC Economy. This software can be used for 3D jobs and with up to 4 axes and it provides many special functions as well as a support of superior mechanical components and it is equipped with much more import filters compared with the version for beginners. Machine controlling is made by one or two LPT printer ports integrated in the computer.


The versions WinPC-NC Light and Economy are also available for the popular stepper motor cards SMC800 and SMC1500, i. e. they control the motors not by clock/direction signals but by SMC signals or current-sourcing specimen.


The version WinPC-NC USB can be compared with the Economy version regarding the available functions except for the method of controlling the machine, i. e. the machine is not controlled by an integrated LPT port but by a small USB module which is part of the package delivered. The casing of the USB module is equipped with 2 contacts which are compatible with the LPT interface.


The industrial version WinPC-NC Professional runs only in combination with our external axis controller CPU and is therefore most qualified for all true realtime tasks. The program is fairly independent of windows speed and provides additional professionhal technological functions besides utmost stability and reliability e.g. for flame and plasma cutting jobs,
for dosing tasks or additional monitoring functions. According to the individual requirement there are various casing versions available which are suitable for being integrated into the control cabinet.
Optionally the axis controller can be equipped with additional optocoupled inputs/outputs in order to handle 24V signals which can be integrated into the control cabinet, e.g. for switching solenoid valves or scanning proximity switches.
WinPC-NC Starter can be described as a special software for beginners. Actually it can be used only in combination with specific machines and which is always part of these delivered packages. WinPC-NC Starter requires an integrated USB hardware and we do not offer this version independently.
Additional Information
A comprehensive overview concerning efficiency and divers application possibilites of the various versions is given by an extensive checklist which is availabe here. For further details please click onto our homepage. Under the category "products-WinPC-NC-required version" you will receive detailed information.